In case you have decided to close First Citizens Bank account, then this guide is all you need to do it. Because in this guide I have explained to you all the steps that are to be followed. The steps are very simple and straightforward. You won't be facing any big issues when you approach the bank for this work.
The steps that are mentioned in this guide are for those people who hold an individual account with the bank. For those who hold a joint account, there is another guide that is published by me. The only difference between the steps is. In the case of a joint bank account, all the account holders need to provide their consent to the bank.
About First Citizens Bank

| | |
| --- | --- |
| Type | Public |
| Founded | 1898 |
| Headquarters | Raleigh, North Carolina, United States |
| Area Served | United States |
| Number of Employees (2017) | 7,000+ |
| Official Website | www.firstcitizens.com |
Steps to Close First Citizens Bank Account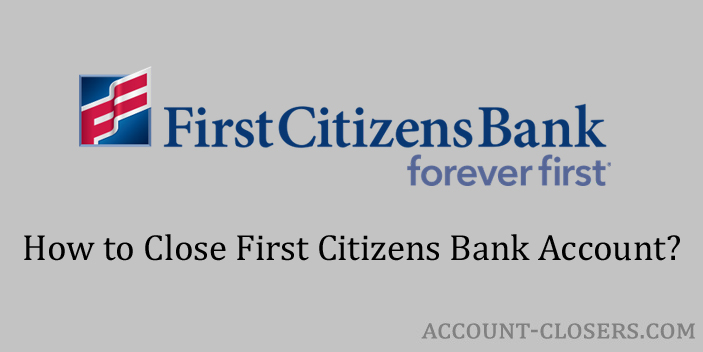 There is no online method, so you will have to follow the offline method only. The process stands very simple but the customer himself or herself has to visit the branch. And submit a written request to the bank. Usually, you will get a form at the branch if not then you can write an application by yourself.
Steps to Close First Citizens Bank Account:
Locate the nearest branch of First Citizens Bank near you.
Check your bank account balance for any dues pending or negative balance. (clear them if any)
Bring down your balance to zero.
Collect your unused cheques, debit cards, unused cheques, and identity proof document with you.
Visit the branch of the bank and go to the helpdesk.
Speak with the bank officials and tell them that you want to close your account.
The officials will ask for your name, account number, and the reason for the closure.
Provide the requested information and collect an account closure request form.
Fill the form with all the details, sign, and submit it to the bank officials.
How to Contact the Bank?
In case if you want more information then you can contact the bank by calling customer care. I referred to the official website of the bank and found the below mentioned contact information. You can also reach the bank by messaging on its official social media profiles.
Contact Details of First Citizens Bank:
Conclusion
As I have already mentioned if you don't get the account closure request form at the branch. You can write a request letter by yourself, sign, and submit it to the officials. Please keep in mind that once the bank starts the process of closing. You can not make any transactions. So make sure you have an alternative account ready with you.
References Used:
https://en.wikipedia.org/wiki/First_Citizens_BancShares
https://www.firstcitizens.com/about-us
https://www.firstcitizens.com/support/call-us