For any reason you have decided to close Commerce Bank account, then you can learn the steps in this guide. This guide is written by keeping the individual account customers in mind. In case if you hold a joint bank account, then you can follow this link and read the dedicated guide.
The bank allows you to close your account, but there are certain terms and conditions that are applied to you. These terms will be very simple, and there is no need to worry much about it. But what is more important is you have to follow the protocol properly to get your bank account closed.
About Commerce Bank

| | |
| --- | --- |
| Type | Public |
| Founded | 1865 |
| Headquarters | Kansas City, Missouri, USA |
| Number of Employees (2019) | 4,800+ |
| Official Website | www.commercebank.com |
Steps to Close Commerce Bank Account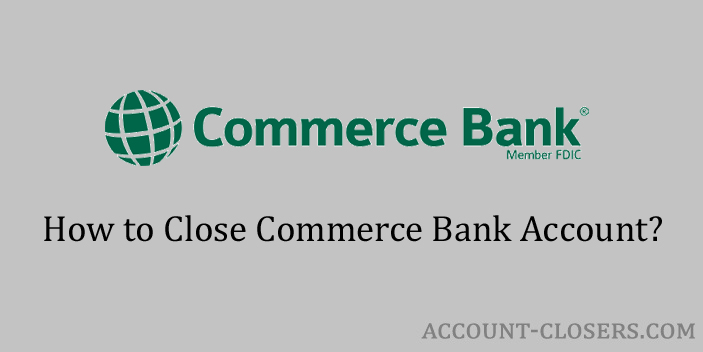 You can not close your account online, the only way you can do it is offline. I have explained all the steps of the offline method below.
Steps to Close Commerce Bank Account:
Locate the nearest branch of Commerce Bank near you.
Check your bank account balance if there are any dues pending or negative balance.
Bring down your account balance to zero.
Collect your passbook, identity proof document, unused cheques, and debit cards with you.
Make arrangements for your alternative bank account.
Switch all your automatic payments and direct deposits to your alternative bank account.
Go to the bank's branch and speak with the bank officials, tell them that you want to close your account.
Provide your name and account number to the officials.
Collect, fill and submit the account closure request form to the bank officials.
How to Contact the Bank?
You can contact the bank, then you can reach the bank by calling them and also by messaging on the official social media profile as well. The contact information mentioned below is taken from the official website of the bank.
Contact Details of Commerce Bank:
Conclusion
It is very simple to close down any account. The only thing is there should be no dues pending or negative balance in your account. And if in case you are closing down your account too early. Then the bank may charge you for the closure. To know the exact amount of charges (if any) I recommend you to contact the bank directly.
References Used:
https://en.wikipedia.org/wiki/Commerce_Bancshares
https://www.commercebank.com/about-us
https://www.commercebank.com/contact-us