Closing down your bank account is not a tough job. But you should know the exact steps that you need to follow. This guide is for the people who want to close Ameris Bank account. I have mentioned all the steps that you need to follow if you have an account with this bank and have decided to close it.
The first thing you should know is only the account holder of the bank is allowed to close the account. So you should make sure that you are not sending anyone from on your behalf to the bank. But in certain cases, if you really come to the bank in person. The bank might help you if you speak with the bank officials at your branch.
So to start with the process you have to clear all the dues and negative balance if you have any in your account. This has to be done before starting the process. Because the bank will not let you close the account until you clear all the dues that are pending.
If you don't know the reason why there is a negative balance in your account. Or want to know how you can clear those. Then you can contact the bank and they will let you know. Basically, you have to make the balance in your account zero. If you have a positive balance then withdraw it and if you have a negative then make it zero.
The next thing what I recommend you to do is make arrangement for an alternative bank account. if you already have an account with another bank then it is fine. But in case you don't have then choose any bank and get your new bank account opened with it.
About Ameris Bancorp

| | |
| --- | --- |
| Type | Public |
| Founded | 1971 |
| Headquarters | Atlanta, Georgia, U.S. |
| Number of Employees (2019) | 2,700+ |
| Official Website | www.amerisbank.com |
Steps to Close Ameris Bank Account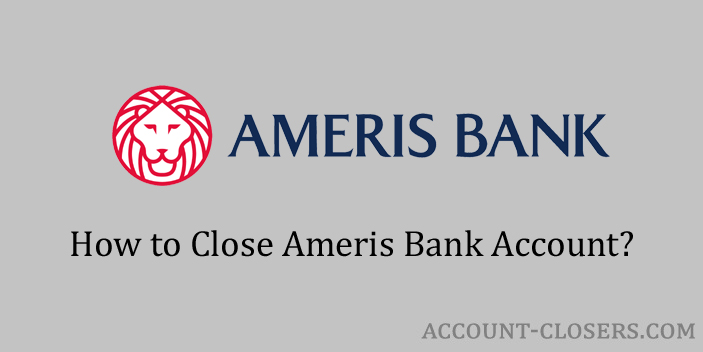 There is no online method to close your account. So you will have to follow the offline method that has been explained below.
Steps to Close Ameris Bank Account:
How to Contact the Bank?
You can reach the bank by calling them, and by messaging on their official social media profile as well. The contact information provided below is sourced from the official website of the bank.
Contact Details of Ameris Bank:
Conclusion
These are the 9 easy steps that you need to follow to get your account closed. This guide is for those people who have an individual account with the bank. In case you have a joint bank account then read this linked guide. If you more information or help of any kind then it is highly recommended to contact the bank itself.
References Used:
https://en.wikipedia.org/wiki/Ameris_Bancorp
https://www.amerisbank.com/About
https://www.amerisbank.com/About/Explore/Contact-Us